Deer Me Art: Thomas Toybringer
Nov 08, 2021
Thomas of Deer Me dresses as Santa Claus, giving me an excuse to draw a poorly fitting beard. I seem to like the look of those.
Category: Deer Me Art
Labels: Deer Me, Art, Male, Coyote, Thomas Millwood, Christmas, Santa Claus
Characters: Thomas Millwood
Please excuse the mess below; it is for testing purposes and shall be removed later.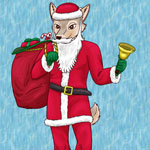 | sfw |