This page is a work-in-progress.
Meanwhile, pick which type of imagery you would like to view.
♥ Deer Me Comic ♥
A comic about a trio of roommates and the hassles that they lovingly cause each other. Happiness is annoying your friends.
"Deer Me" is a slice-of-life comic that features friendships, furries, romance, and the lighter side of looking at the dark side of everything.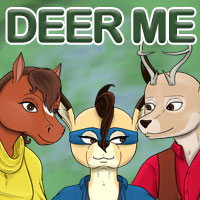 ♥ Sharpclaw Comic ♥
A fantasy comic featuring fairy tales and furry tails.
Themes and references include "Snow White And Rose Red," "Little Red Riding Hood," "Rumpelstiltskin," "Rapunzel," "Cinderella," and many others, but in an original story, rather than an adaptation of any particular tale.